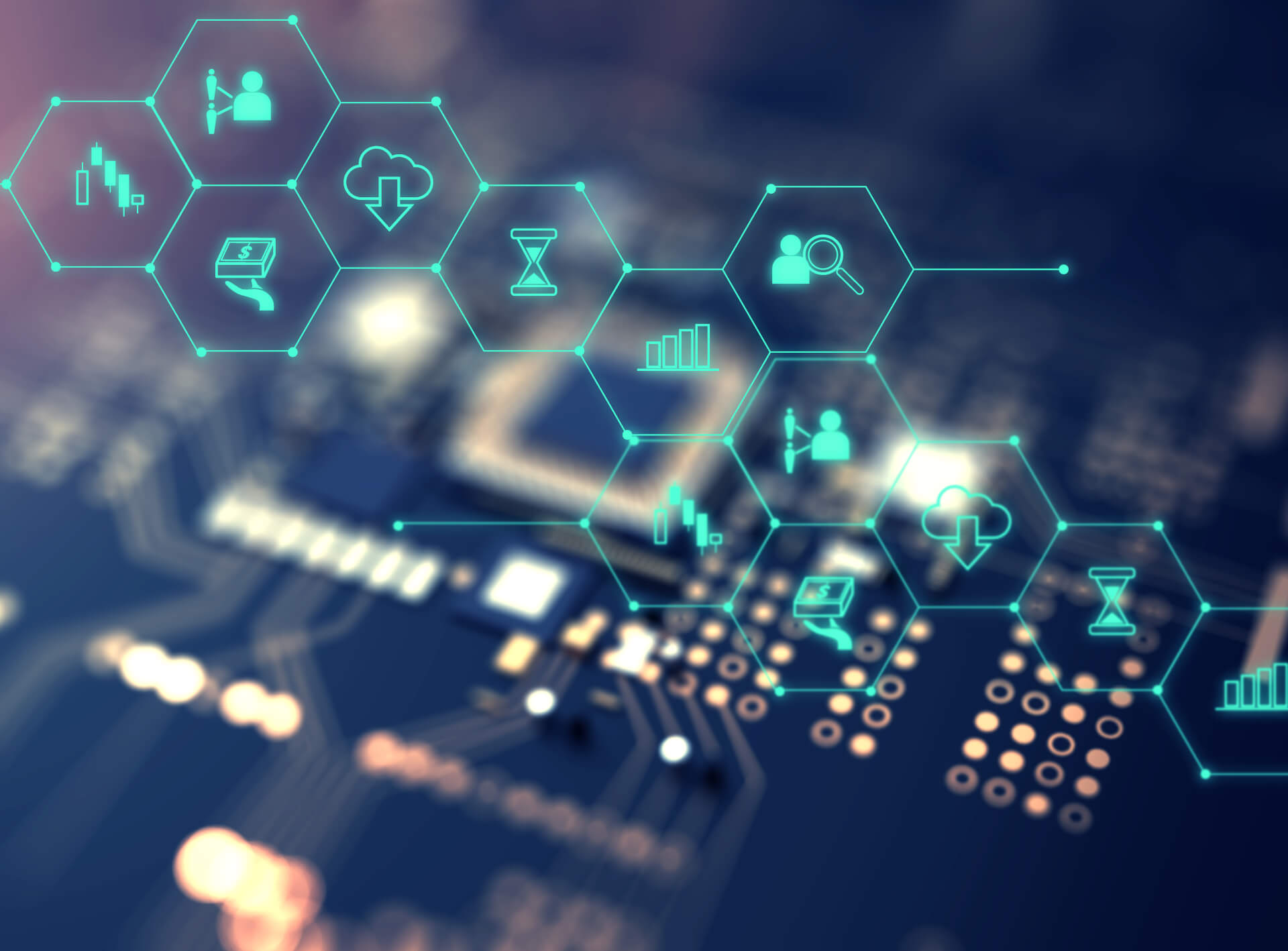 INTRODUCTION


 Progressing at pace, the already flourishing Islamic fintech (financial technology) sector, itself the embodiment of the evolution of existing Islamic financial services, now has a clear opportunity to further embed itself within the world of global finance. Islamic fintech can be defined as an offshoot of financial technology that is built on Sharia principles, prohibiting profiting from debt, interest payments and investing in businesses related to alcohol, tobacco and gambling amongst others. 
 

With the socio-economic upheaval and geo-political changes brought about by the global COVID-19 pandemic and the ongoing war in Ukraine, Islamic fintech currently has the chance to become not only a game changing, disruptive force within global finance, but an influential driver of global financial inclusion.

2020 was a landmark year for Islamic fintech as it was the first time that a standalone Islamic fintech company purchased another, with the New York based ethical investment platform and global robo adviser Wahed acquiring the UK based, Sharia compliant digital banking operator, Niyah.

So if Islamic fintech continues along the same path of rapid growth that it has been travelling along on for some time, the sector will unquestionably emerge as a competitive selection of Sharia compliant alternatives to the wide range of innovative fintech startups and established fintech giants that have been a mainstay of Western, Asian and more recently African economies over the last quarter century.
 

This article explores the latest in Islamic fintech as well as forecasts of the sector's huge future potential.

THE DEVELOPMENT OF ISLAMIC FINTECH 


Islamic finance is one of the fastest growing sectors of the global finance industry. Catering to the financial needs of the 1.8 billion Muslims across the planet and a broader, international 'ethical finance' audience, Islamic fintech's role holds greater significance now more than ever before, where the need for global investment and financing has never been greater, especially in terms of financing SDGs (Sustainable Development Goals) and ESG (Ethical, Social, and Governance) investments, both of which align closely with the Islamic concepts of social justice and zakat (charity).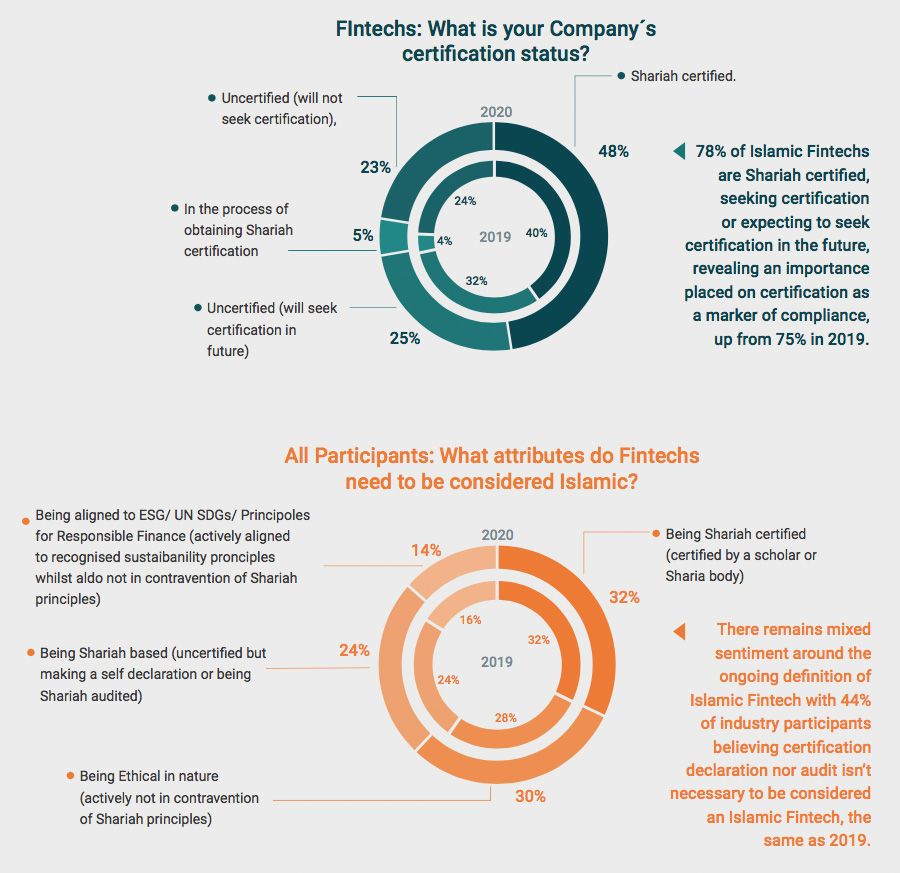 (consultancy-me.com, jan2022)

  The global fintech revolution is having a similar impact on Islamic finance through the evolution of a progressive, forward-thinking Islamic fintech ecosystem, with many Islamic fintech startups using existing, successful fintechs as loose models upon which to base their own, Sharia compliant fintech organisations on.   

With the appropriate modification, many of the hugely successful fintech companies across the world could be used as a blueprint to help spawn their Sharia compliant counterparts.
STATISTICS ON THE ISLAMIC FINTECH INDUSTRY


Standard & Poor's Head of Islamic finance stated that he believes the market will expand by approximately 10% in 2022-2023 after it expanded with a 10.2% growth in total assets in 2021. In 2020, the total combined asset value of the global Islamic finance market amounted to approximately 2.88 trillion U.S. dollars, with more than 200 million micro, small and medium-sized businesses that still require banking assistance.

Over three quarters of Islamic fintechs are active in more traditional areas related to raising funds, deposits and lending, wealth management, payments and alternative finance, meaning that the digital banking space is somewhat up for grabs.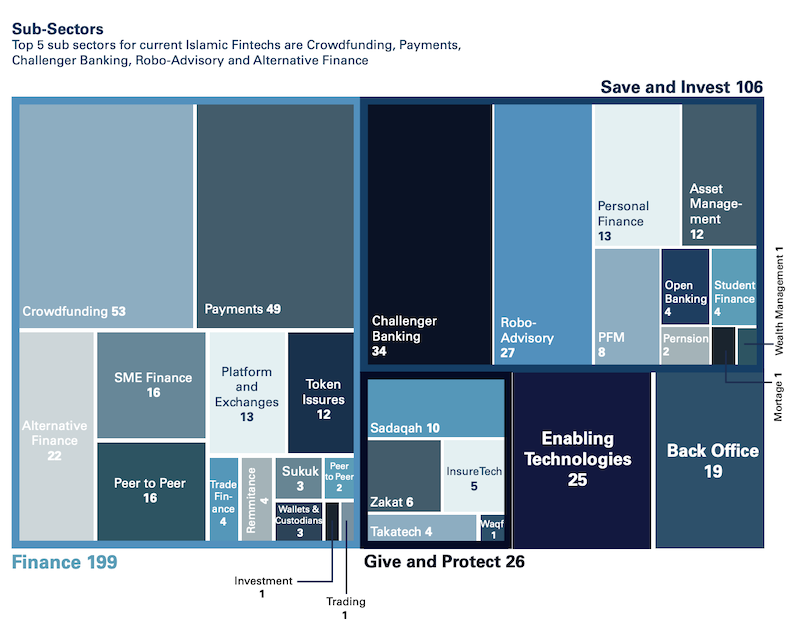 (Global Islamic Fintech Report 2022)


Based on the 2022 Global Islamic fintech report from Dinar Standard and Elipses, the size of the global Islamic fintech market was $79 billion in 2021, although accounting for just 0.8% of the entire global fintech market. 
The Islamic fintech market size is expected to reach $179 billion by 2026 at a CAGR of 17.9% relative to the overall global fintech industry, which is expected to grow over the same period at a CAGR of 13.5%. The report also estimated that Saudi Arabia, the world's largest Islamic fintech market, is currently worth around $26bn and is projected to more than double in value in the next five years to $52.3bn. 
 

75% of young Muslims want their banks to make investments that 'do good in the world', with 62% opposed to their bank lending to tobacco companies and 69% against their bank lending to gambling institutions. 74% of young Muslims said it's important they can access their bank's services via a mobile app and 80% said it's critical they can access banking services anywhere, at any time.
Islamic Finance is currently estimated to be worth $2 trillion globally, at the very least. This figure is set to hit $3.8 trillion by 2023, as driven by high demand from millennial and Gen Z Muslims, who are confidently expected to account for upwards of 75% of Islamic banking revenue within the coming decade. Furthermore, with data from the ONS (Office of National Statistics) showing that by 2019 more than 90% of 16-24-year-olds were already managing their money online, it looks as if the Islamic fintech space will be a blessing for both consumers and providers. 
 

In the UK, 4 million Muslims make up the second largest religious group in the country and according to the Muslim Council of Britain (MCB) contribute 
£31 billion to the UK economy and wield a spending power of £20.5 billion. 


The UK had the third-largest number of Islamic finance education providers, only trailing behind Islamic finance powerhouses Indonesia and Malaysia. Furthermore, the UK leads the way with 27 Islamic fintechs, predominantly catering to the needs of British Muslims that want to bank with ethical financial institutions, which is more than the United Arab Emirates with its 15 Sharia-compliant fintechs.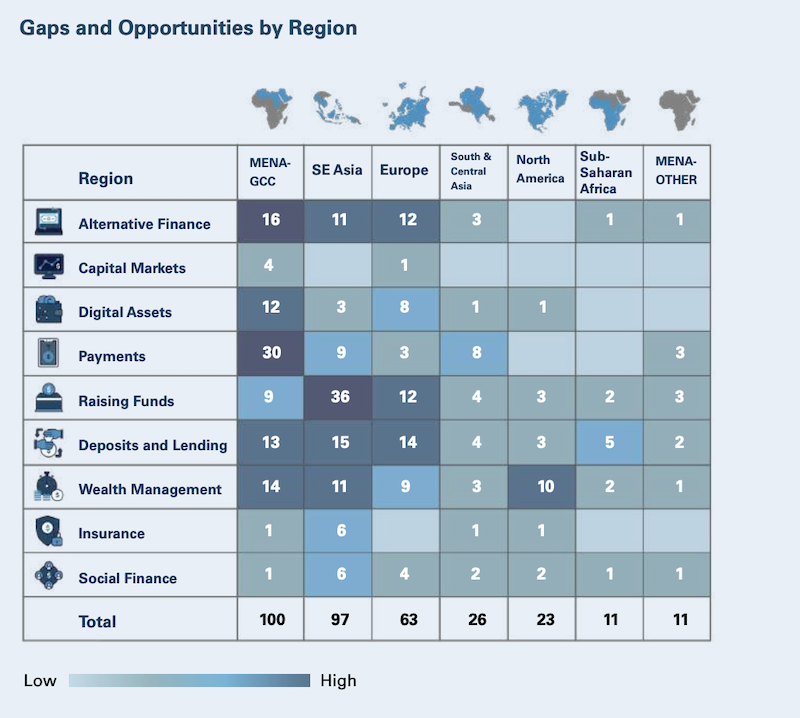 (Global Islamic Fintech Report 2022)
EXAMPLES OF LEADING ISLAMIC FINTECH COMPANIES 

Below is a selection of the most innovative and successful  Islamic Fintechs currently operating around the globe:

Qardus- The UK's first ethical and Sharia compliant SME financing marketplace that offers up to £200,000 in working capital financing to eligible small businesses. 
Islamic Finance Guru - An online hub assisting Muslims with their investment, personal finance and entrepreneurial journeys. 
Path Solutions- Provider of Digital Banking, Risk Management/Compliance, and Banking software, serving over 150 Islamic institutions across 40 countries. 
Wahed- Ethical investment platform and the world's first global Islamic finance robo advisor. Launched the first exchange-traded fund in the United States that was compliant with Sharia law in 2019.
P2P financier Amartha Mikro Fintek & Bank Sumut - Empowering women micro entrepreneurs through inclusive financial services including Islamic facilities to develop women-owned MSMEs in the region. 
Global Sadaqah - Award-winning, Kuala Lumpur based philanthropic fundraising finance platform, featuring CSR, Zakat and Waqf Management services.
Yielders -UK based Islamic fintech and leading peer-to-peer property investment platform. 
PayHalal - World's first Sharia compliant e-commerce payments gateway and online ewallet issuance market. Owned by Souqa Fintech, PayHalal launched the world's first Islamic buy-now-pay-later (BNPL) platform in 2021
MRHB DeFi Network - World's First online, ethical / Halal DeFi Solutions platform for passive crypto Income, commodity exchange & staking. Blockchain services provider based in Sydney, Australia.
coinMENA- One of the world's first Sharia-compliant crypto-assets trading platforms offering non-traditional investment options in the MENA region. Licensed and regulated by the Central Bank of Bahrain (CBB). 
CHALLENGES FOR THE ISLAMIC FINTECH INDUSTRY

Investment capital for Islamic fintech is for now still typically scarce, and there is a need for a new generation of stakeholders aligned with the principles of Islamic finance. Although these realities are starting to change, many sources of venture capital are still far from Sharia-compliant, making it difficult for the up-and-coming entrepreneurs to fund the development and execution of their ideas.
The Islamic fintech sector is arguably held back by inherent structural weaknesses within Islamic finance such as the complexity of transactions. This is especially true for those in the general public as well as those within the fintech/finance industry who are acquainted with the form of Islamic financial transactions or the processes involved in carrying them out.
A barrier to the proliferation of Islamic fintech products comes from regulatory miscommunication. While the regulatory frameworks in the Middle-East and much of Asia manage to provide for Islamic fintech, those in charge of setting the rules (and in some cases, drafting the law) around the rest of the world are often poorly acquainted with Sharia compliant products and services, let alone the principles that underpin them all. Not to mention the fact that those regulatory systems were not designed with such principle-bound products and services in mind. As such, many of these countries have yet to make much effort to accommodate for Islamic fintech. This means that those in charge of building and applying the regulatory frameworks in countries on continents such as Europe and the US will need to implement what is necessary to make their markets both receptive and accommodating to such products and services. Although expert assistance is available through professional financial organisations such as the FCA in the UK, some of the most influential actors within finance such as academics, gatekeepers, and those in authority, frequently lack the necessary knowledge about Sharia compliance.
A further challenge facing Islamic fintech products and services and another barrier to their more widespread use is a lack of awareness of their existence amongst the non Muslim global general public, along with a lack of the requisite knowledge surrounding the basic principles that are the foundation of Sharia compliant finance. This issue is frequently raised and not just in non-Muslim jurisdictions such as the UK, but also in many majority Muslim countries. 
Performing an unquestionably essential function in musharakah, takaful, and sukuk, the concept of profit and loss sharing looms large in Islamic finance, and is a concept that may be hard to align with traditional western financial and investment philosophy.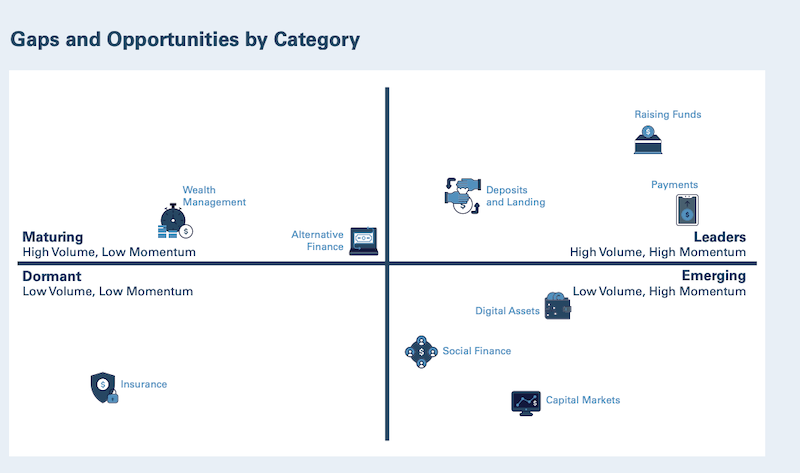 (Global Islamic Fintech Report 2022)
ADDING VALUE AND INNOVATION TO THE GLOBAL FINANCE INDUSTRY WITH ISLAMIC FINTECH

With a customer base not far short of 2 billion people, projected to reach around 3 billion people by 2060, Islamic finance and fintech has the opportunity to take the global finance industry beyond the time-honoured bottom line of profit, and offer both ethical and sustainable alternatives in terms of investment  methodology and investment products. The increasing focus on sustainable/regenerative financial models and goals, along with the recent progression in financial digitalisation and e-commerce, provides the perfect foundation for Islamic fintech to positively influence the sphere of global finance and investment. 
Global financial inclusion 

Through promoting risk-sharing contracts that provide a viable alternative to conventional debt-based financing, and also through specific instruments of redistribution of the wealth among the society based on Islamic principles such as zakat (charity).       

Addressing financial risk

The 2008 financial crash was brought about by fund managers and financial speculators making risky investments. Islamic investments by their nature mitigate much of this danger through the prohibition of riba (interest) and ghahar (risk), thereby eliminating any opportunities for short selling or uncertain contracts.

Offering alternatives to traditional investments

The fact that Islamic fintech and finance are Sharia compliant does not just mean that they are acceptable to muslims across the globe, but that they offer a different choice in terms of the ethical and moral implications that come with investment choices.

Reframing the corporate landscape

Islamic FinTech follows Sharia principles and is hence a type of technology that is ethical and religiously acceptable. Through its very nature, it embraces environmental, social, and corporate governance (ESG) elements. The alignment of certain Islamic financial products and environmental, social, and governance factors along with recent strides in digitalisation may allow Islamic fintech to makes a strong foothold in the market, perhaps even bringing about re-alignment of strict shareholder interest through increased focus on SDGs, ESG investments, and genuine, far reaching programs of CSR.